A Land Value Tax for Northern Ireland by Ronan Lyons & Andy Wightman. Download (10.3Mb pdf)
A report commissioned by the Northern ireland Council for Voluntary Action's Centre for Economic Empowerment
June 2014
Renewing Local Democracy in Scotland. Download (1Mb pdf)
A report written for the Scottish Green Party, February 2014.
A Land Value Tax for England. Fair, Efficient, Sustainable Download (4.1Mb pdf)
A report written for Caroline Lucas MP March 2013
Evidence submitted to Land Reform Review Group January 2013
Download (8.2Mb pdf)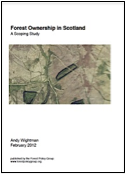 Forest Ownership in Scotland (Feb 2012)
The first ever detailed analysis of who owns Scotland's forests. Commissioned by the Forest Policy Group, the report exposes the remarkable pattern of private ownership of forestry – the most concentrated in Europe.
Download (5.7Mb pdf)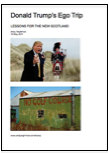 Donald Trump's Ego Trip. Lessons for the New Scotland (May 2011)
A detailed investigation into the goings on at Menie Estate where Donald Trump is building "the gretest golf course in the world". It includes an examination of land grabbing, intimidation, compulsory purchase orders, police involvement and the media response in north-east Scotland.
Go to Donald Trump page for download and further information.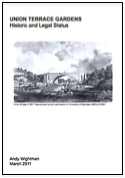 Union Terrace Gardens (March 2011)
A detailed investigation into the history of Union terrace Gardens in Aberdeen concluding that the land is common good land.
Download (1.54Mb pdf)
Land Reform The Way Ahead (March 2011)
A report commissioned by the Scottish Community Alliance which documents and analyses what has happened to the bold programme of land reform launched in 1999 and to make recommendations for how a new programme might be framed.
Download (1.2Mb pdf)
The Poor Had No Lawyers (New Edition April 2013)
Who Owns Scotland? How did they get it? What happened to all the common land in Scotland? Has the Scottish Parliament made any difference? Can we get our common good land back? In The Poor Had No Lawyers, Andy Wightman, author of Who Owns Scotland, updates the statistics of landownership in Scotland and takes the reader on a voyage of discovery into Scotland's history to find out how and why landowners got their hands on the millions of acres of land that were once held in common.
A Land Value tax for Scotland (October 2010)
This report was commissioned by the Scottish Green party MSPs in the Scottish Parliament and provides an analysis of how LVT could be implemented in Scotland and what the consequences would be. It includes detailed financial impacts and proposals.
Download(4.1Mb pdf)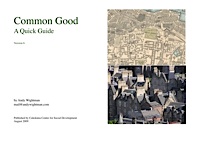 Common Good – a quick guide (August 2009)
A Quick Guide to common good including definitions, the law, list of burghs and how to find out more.
Download (8.1Mb pdf)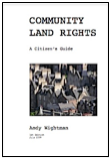 Community Land Rights. A Citizen's Guide (July 2009)
Community Land Rights is the first comprehensive overview of land rights that belong to communities in Scotland. It focuses on the range of common land that exists throughout rural and urban Scotland and provides a how-to guide to undertaking research into common good land, commonties, commons and other forms of commonly held land.
Coming soon as a download (March 2023)
Common Good Land in Scotland. A review and critique (November 2005)
The report that ignited the debate on Common Good Land in Scotland.
Download (1.3Mb pdf)

Hunting and Hegemony in the Highlands of Scotland: a study in the ideology of landscapes and landownership (September 2004)

A paper published by the Centre for International Environment and Development Studies at the Agricultural University of Norway. September 2004.
Download (880kb pdf)

Common Land in Scotland. A brief overview.
Andy Wightman, Robin Callander and Graham Boyd (December 2003)
Download (548kb pdf)
Wightman et al 2002 "The Cultural Politics of Hunting: Sporting Estates and Recreational Land use in the Highlands and Islands of Scotland"
Culture, Sport, Society Vol. 5 No. 1 pp. 53-70
Download

Politics, Power & the Public Interest
The 1999 John McEwen Memorial Lecture (August 1999)
The final lecture in the McEwen Lecture series given by Andy Wightman at the Edinburgh International Book Festival. Download (375kb pdf)
Scotland: Land and Power. The agenda for land reform (Luath, 1999)

Who Owns Scotland (Canongate, 1996)
A major survey and analysis of landownership in Scotland. This book is currently out of print but copies can be picked up on abebooks.co.uk.