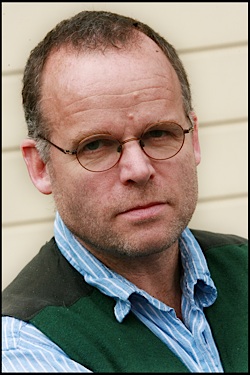 I am a writer, researcher, analyst, commentator and activist on issues of land, power, governance, democracy and money. Over the past 20 years I have undertaken a wide range of work on land tenure, landownership, land reform and, more recently community land rights, governance and the hegemonic dimensions of land relations.
I studied forestry at Aberdeen University and spent some time working as an environmental scientist before becoming self-employed in 1992. In 1996 I wrote Who Owns Scotland (Canongate) and in 1999 wrote a short rant called Scotland: Land & Power. The Agenda for Land Reform in Scotland (Luath.
Since 2000, I have developed interests in common land, community land rights and questions of governance, power and money. An example of this interest was a survey and analysis of the common good of Scotland's burghs and the story of its ongoing maladministration.
In 2010, I wrote The Poor had No Lawyers (Birlinn), an attempt to provide an historical analysis of the land question and to reinvigorate debate around land relations. I remain hopeful of success in countering hegemonic landed power in all its guises. I served as an MSP 2016-2021.
My big project is www.whoownsscotland.org.uk. Please take a look
COMMENTS POLICY
I welcome comments on blog posts. Please keep these courteous and relevant. Defamatory, vulgar and otherwise offensive comments will not be published. Tedious nit-pickers and trolls can expect short shrift. This blog is also not a place to conduct private arguments. Anyone who repeatedly fails to observe these conditions will be blocked from making any further comments. My decision is final. If you don't like it, you are welcome to publish your own blog.
DECLARATiON OF INTERESTS & INCOME
What with growing concerns about income inequality, bankers' bonuses, and tax avoidance by the rich, I though I should join a couple of my self-employed writer/activists colleagues (George Monbiot andAlastair McIntosh) and make an annual declaration of interests and income.
2010 (tax year to 5 April 2011)
2011 (tax year to 5 April 2012)
2012 (tax year to 5 April 2013)
2013 (tax year to 5 April 2014)
2014 (tax year to 5 April 2015)
2015 (tax year to 5 April 2016)
2016 (tax year to 5 April 2017)
(to be updated after lull whilst I was an MSP)