Who pays the costs of fighting the fire?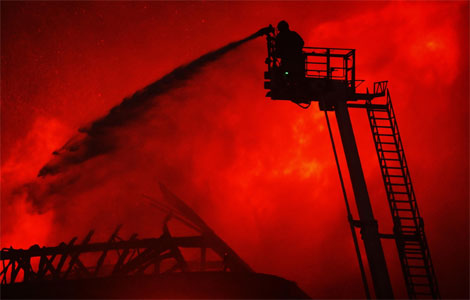 A dramatic fire has been raging all afternoon at the Gusset building at 120-130 Morrison Street, Glasgow. The property has lain derelict since it was bought for £4,200,000 by Straben Developments Limited of Belfast, Northern Ireland in September 2007. (title documents here plus plan).
Reports claimed that over 100 firefighters were in attendance and at the height of the blaze, there were 16 fire engines in attendance. These public sector workers did the City of Glasgow proud in managing to control the blaze and ensuring the safety of the public. Remember that on 30 November 2011.
But, equally serious is the fact that fire and rescue is a public service that is paid for by the taxpayer and the council tax and business-rate payers of Glasgow.
Straben Developments, however, are exempt from paying business rates on their £4.2 million investment. So, while they sit on their asset which I am sure is fully insured, they pay nothing towards all the services of the City of Glasgow that work to ensure their land and property is protected. Over the four years since 2007, the company has saved over £500,000 in land tax.
It is high time such exemptions were abolished or (better still) a land tax was introduced to prevent such buildings lying derelict in the first place and to make sure the owners pay their fair share towards the costs of those brave firefighters and their equipment which so quickly came to try and put out the fire that broke out this afternoon.
UPDATE DEC 2011
Folk are asking why do they pay no rates? Well, first of all if you want to check for yourself, go to the Scottish Assessor's portal and type in G5 8BE. The page is here. Valuation is £300,000.
The Scottish Government provide a brief guide to Non-Domestic Rates here. The reason why this property pays no rates is either because it is an empty industrial building and/or that is is Category B listed. (see paragraph under "Empty Property Relief"). All empty factories, warehouses and listed buildings enjoy 100% relief at all times.
NOTE – John Swinney announced in the 2011 spending review that he would be "introducing legislation to reform empty property relief from April 2013 to support regeneration and introduce incentives to reduce empty shops in town centres" Quite what this might mean for industrial and listed properties granted 100% relief is not clear.
UPDATE 2 JUNE 2012
I now learn that, while Straban Developments have paid no business rates since 2007, Strathclyde Fire and Rescue paid over £2 million in business rates in 2011/12.
UPDATE AUGUST 2015
After the fire, the Scottish Assessor amended the rateable value to £0. This is a consequence of the bizarre definition in land valuation law that for a property to have a rateable value there must be some form of non-domestic usage in the form of property – a building, shop, some shooting etc – taking place. Land qua land is not rateable as such. Since Straban Developments acquitted the property in 2007, it has avoided paying a total of £1,085,700 in non-domestic rates as a direct consequence of the bizarre rules as to who should pay taxes on on land and property.