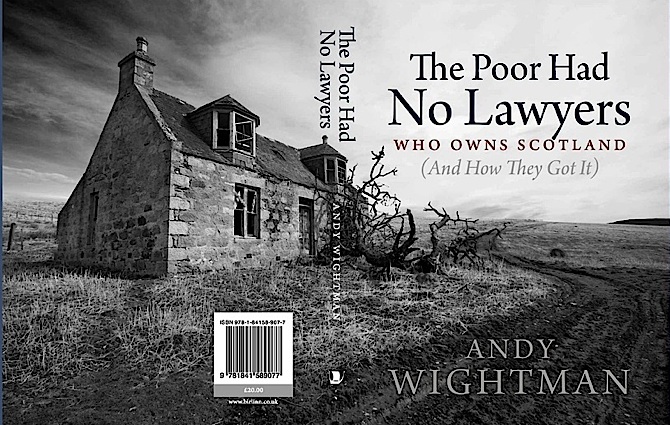 Today, the Scottish Government announced the establishment of a "Land Reform Review Group" that will oversee a "wide ranging review of land reform in Scotland". If this happens it will be very worthwhile.
However, the remit and membership of this group are yet to be agreed with Scottish Ministers and it is unclear how wide the remit will be. If it is simply to undertake a technical review of the Land Reform (Scotland) Act 2003, it will be of very limited value when the real issues concern inflated land values, affordability of housing, succession law, tax avoidance, secrecy, absentee landlordism, theft of common land, land registration laws, common good etc. etc. etc.
Whether any of this gets looked at depends on two things.
The definition of the term "land reform" and the remit for the group. Let's crowdsource ideas on both of these. Please leave comments on:-
1. a definition of land reform and
2. a remit for the Land Reform Review Group.
I will moderate comments strictly to these two questions.
My interview on Radio Scotland Newsdrive at 1750 today 24 July 2012.
UPDATE 25 July 2012 Rob Gibson MSP has issued a press release welcoming the establishment of the Group. From his comments it appears that the review will focus on community land issues. The "Overview of Evidence on Land Reform in Scotland" published by the Scottish government also restricts itself to the Land Reform (Scotland) Act 2003. Given too that a review of the Act was the focus of the SNP manifesto commitment, this all suggests that the remit of the Review group is not going to be a review of land reform but a review of one piece of legislation. Since the remit has yet to be published, however, it is still impossible to be sure.
UPDATE 27 JULY 2012 Professor Peter Dale OBE who is a past President of the International Federation of Surveyors 1995-99 and currently their Honorary President has contributed a useful summary of what land reform means. It is an analysis that I agree with. In my view land reform is about the reform of power relations and how that power is derived, distributed and exercised form the core of any serious land reform project. Here is what Peter has to say.
"The words 'land reform' often mean almost whatever you want them to mean and depend on to whom you are talking.
Unless I have missed it, the Land Reform (Scotland) Act 2003 does not define the term, it merely lists those examples of land reform that the Act addresses. It is as if you had a Health Reform Bill that didn't address health, only some service delivery such as patient waiting times.
Land is a diverse concept that depends on whether you are looking at it from a legal, financial, land use or social perspective i.e. its ownership, value or use. Reform may concern the changing of land rights (land tenure reform), the redistribution of ownership or use rights (including land consolidation and land reallocation, i.e. reforms to the pattern of ownership), alterations to land use (e.g. physical changes in agricultural practice or through inner city development), changes to land tax (that bring about changes in land ownership, value or use), or changes in how land is managed, etc.
In summary, the term 'land reform' embraces all those processes that alter the pattern of land ownership, land rights, land values or land use within a specified area."
Professor Peter Dale 26 July 2012