Earl of Hopetoun's plans for Hopetoun estate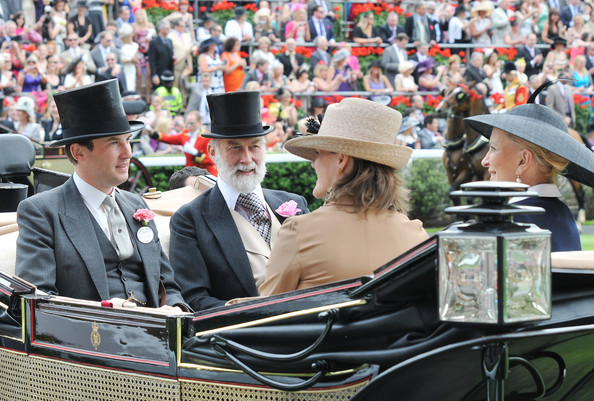 The Earl of Hopetoun, Prince Michael of Kent, The Countess of Hopetoun and Princess Michael of Kent
Last night in our ScottishSix show, the topic of Lesley Riddoch's talk was "Harpies & Quines – is this still Macho Caledonia." It was a thought provoking analysis of Scotland's failure to promote the equality of the sexes. I went first and set up Lesley's part of the show with a link between landownership and gender. For centuries, women have been discriminated against when it comes to inheritance and still today do not enjoy the same privileges as men.
More generally, Scotland stands almost alone of all European countries in not providing legal rights for children to inherit land and property (see Chapter 28 of my book, The Poor Had No Lawyers for a fuller background to the topic including the thoughts of Adam Smith) and so I related the tale of the Earl of Hopetoun and his stated ambitions for his children. The Earl owns the 25,600 acre Hopetoun Estate and is a Director of Scottish Land and Estates (where 8 out of 10 members are men). He has four children – Olivia, Georgina, Charles and Victor.
One of my followers on twitter is a retired lawyer, Neil King (@NeilKing11). He tweeted his concern over what I had said we would be discussing (he lives in the Azores and so cannot make it to any of our shows).



For the record, here is the relevant part of a feature published in the Scotsman entitled "Country Heir" on Thursday 19 July 2012. In the show I read this out to the audience.
Together with his wife, Skye Bovill, whom he married in 1993, the daughter of an army general, he has four children Olivia, 15, Georgina, 13, and twins Charles and Victor, ten.
     Despite his two oldest children being daughters, it is his oldest son who will inherit. When asked whether that posed potential difficulties in choosing his successor, as they are twins, he says: "One is older and one is younger." He does not want to dwell on the subject but reveals he has had conversations with his own younger brother about who was the lucky one."
I then handed over to Lesley to discuss the the lot of Scotland's women folk.
Does anyone feel uncomfortable talking about this? What do folk think about the role of succession law in perpetuating Scotland's concentrated pattern of (predominantly male) landownership? Should children have the right to inherit land and property? Should anyone have the right – should we not expropriate land on the death of its owner and redistribute it to those in greater need? What do you think?