Defamation and the Serious Harm test
Speech in Stage One debate (to see subtitles, switch them on in icon below vide)
9 minute read.
The Defamation and Malicious Publication (Scotland) Bill was debated at Stage One in the Scottish Parliament on Thursday. I was given 3 minutes to speak and I used them to articulate my concerns about the serious harm threshold. The text of my speech is appended at the foot of this blog.
This blog is designed as a stimulus to further discussion and debate over the serious harm test set out in the Bill. It will be followed by a further blog exploring some of the possible options to amend the Bill. Feel free to comment below or send your views directly to myself. Before proceeding, however, I should make a few things clear.
Firstly, I supported Scottish PEN and others who have been campaigning for a serious harm test but I write this as a lawmaker and not a campaigner and I want to get this right.
Secondly, the proposal for such a threshold was adopted early on in the Scottish Law Commission's work on the Bill and has become an established part of the evolving proposals. Now that the Bill is in the process of becoming law, we need as a matter of principle to properly evaluate the arguments for and against and stress test the provisions as set out in the Bill.
Thirdly, my speech appended below is a speech is thus rhetorical in style. It was in part designed to ensure that the opposing view to the general consensus was given an airing on the public record in Parliament before the detailed Stage 2 amending process. I should add that the one other MSP who spoke and expressed reservations about the proposed test was Annabelle Ewing MSP who was a Minister responsible for civil law until June 20128.
The Bill creates a statutory definition of defamation but then states that in order to be actionable the harm has to be serious.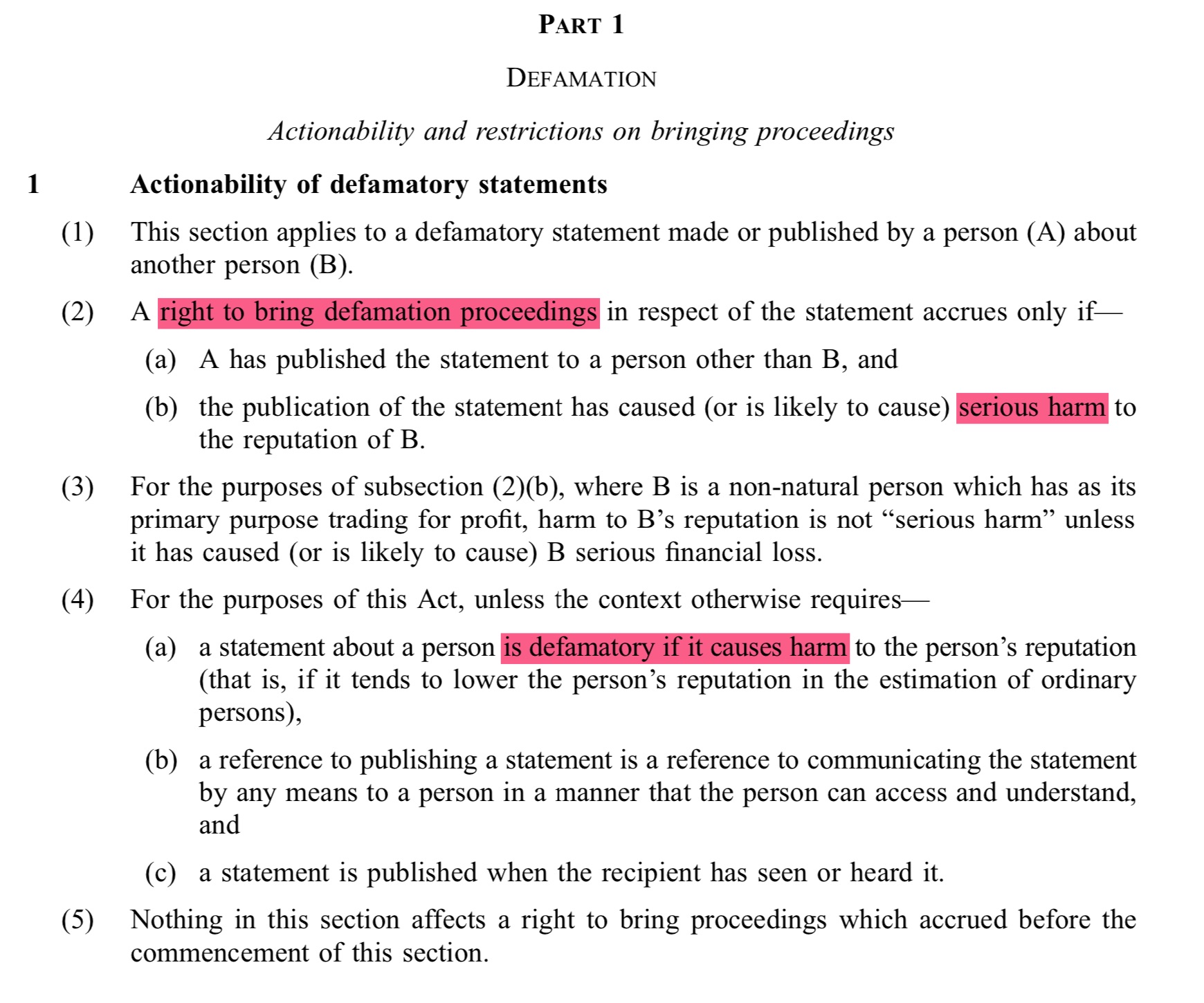 The Defamation Act 2013 in England and Wales, by contrast, defines defamation as causing serious harm to ones reputation and this by exertion, only serious harms can be pursued.

We need further debate on the three key questions which form a logical progression of consideration.
Should there be a statutory threshold for initiating legal action for defamation?
My view is that yes, there should be a threshold. Currently anyone can initiate legal action for alleged defamation and the allegations are presumed to be defamatory. Whether they are in fact depends (in contested cases) on an evidential hearing (a proof) to establish whether in fact the statement complained of was ever made and in what context, whether the statement bears the meaning alleged by the pursuer, whether it carries a defamatory imputation and whether there are any defences available to the defender.
The purpose of a threshold is to filter our frivolous, vexatious or malicious actions and give some measure of confidence to those who receive legal letters threatening action as to what tests will need to be met before an action can proceed.
In setting any threshold, one needs to be mindful of the need to ensure that it is not set too high and does not exclude those with legitimate complaints who feel that they have been defamed and wish redress. On the other hand it should not be set so low as to have no practical effect.
2. If there should be, what should that threshold be?
This is a critical question. There should in my view be a threshold but if we are going to define defamation as a statement that causes harm to someone's reputation then is that not a sufficient threshold to be demonstrated at an evidential hearing before a full proof can take place?
3. If there should be, how should such provisions be framed in law?
Should such a threshold be incorporated into the definition as in England and Wales or should the threshold for actionability be separate from the definition? Should the kind of procedure to asses whether such a threshold has been met be left to the rules of procedure for civil cases to determine or should there be some statutory provision? Should there be statutory criteria for assessing whether the threshold has been met or should it be left to the Courts to determine in each case depending on the facts and circumstances?
The written and oral evidence from a number of witnesses during Stage Ione reflected on some of this questions in a broad sense as the debater at Stage One is focused on general principles. However, in my view we need further debate on both the principles in some more details and how the law is framed as we head to Stage 2.
SPEECH
Thank you Presiding Officer – I want to focus my remarks on the serious harm threshold because it is a significant change.
It exists of course in England and Wales in section 1(1) which states that
(1)A statement is not defamatory unless its publication has caused or is likely to cause serious harm to the reputation of the claimant.
The Bill before us, by stark contrast does not follow that straightforward formulation but instead defines a statement as defamatory if it causes harm but then in addition states that for it to be actionable that harm must be serious. In that respect I disagree with Adam Tomkins that Scots law is being brought into line with England and Wales and I'll return to that.
Following the Supreme Court ruling in Lachaux, liability in defamation cannot be established by reference to inherent tendency of the words alone but has to have regard to the facts and circumstances.
And thus the Court will need to hear evidence on whether the alleged words written or spoken were indeed ever written or spoken, whether they bear the meaning alleged by the pursuer, and the reasons why, if defamatory, serious harm is or is likely to be caused
And that does requires an evidential hearing and thus there will need to be significant procedural rule changes to Scottish civil procedure to accommodate any pre proof evidential hearing.
I have four arguments against the serious harm test as
First, as matter of principle, we should not be shutting down civil law remedies for people without good reason. Someone for example who is defamed but only suffers harm is now to be denied redress as is someone who suffers repeated harms over perhaps a long period of time but where the threshold may never be met by any one instance.
Secondly, as a caution to those who think this may act as some kind of procedural hurdle – this will involve evidential hearing and associated expense.
In my recent £750,000 action I would still have been in Court for 6 days trying to thrash out whether in fact serious harm had ever been caused to the pursuer.
Thirdly, a serious harm threshold will not deter a litigant determined to damage someone. That's what happened with me. It took a full proof to conclude that no harm at all had been caused and no financial loss had accrued to the pursuer.
And finally but very importantly, let us ponder what Parliament is being invited to do. Section 1(4)(a) states that a statement about a person is defamatory if it causes harm to their reputation. Incidentally this was not in the draft Scottish Law Commission Bill and the Scottish Government has never published an analysis of responses it got to its own consultaiton. But any such statement is only actionable if the harm is serious.
Presiding Officer, We are defining a civil wrong in statute then saying there nothing you can do about it. We are now seeking to deny civil justice to our constituents whose reputation has been harmed.
Is this even compatible with Article 6 of the ECHR?
Presiding Officer The threshold does little for defenders as full proof will still be required.
The threshold on the other hand does a lot for pursuers but in a wholly negative way and without any justification. This Bill risks denying legitimate pursuers their human right to a civil remedy for a wrong that we are defining as harm but about which they can do nothing unless they can prove that it is serious.
Why?