Scottish Ministers refused consent for short-term lets
On 8 January 2020, the then Housing Minister, Kevin Stewart, made a statement to Parliament announcing the Government's proposals for the regulation of short-term lets.
I had been campaigning on this topic alongside other MSPs such as Kezia Dugdale for over two years. One of the key issues was that many short-term lets in Edinburgh did not have planning consent to operate as commercial properties. This became a running issue between myself and the Housing Minister who regularly challenged my understanding of planning law.
Despite Scottish Government officials agreeing with me that short-term lets were a sui generis use class and required planning consent where there was a material change of use, for some reason, Kevin Stewart always appeared to question this. I never worked out what exactly the difference of opinion was between us but the consequences of this in relation to Scottish Ministers' own actions are now clear.
Meadowbank Lodge (pictured above) sits at the eastern end of Holyrood Park and Duddingston Lodge at the Duddingston entrance to the Park. The day earlier (7 January 2020), Historic Environment Scotland had announced its intention to refurbish both properties as holiday lets.
And so I asked the Ministers the following question.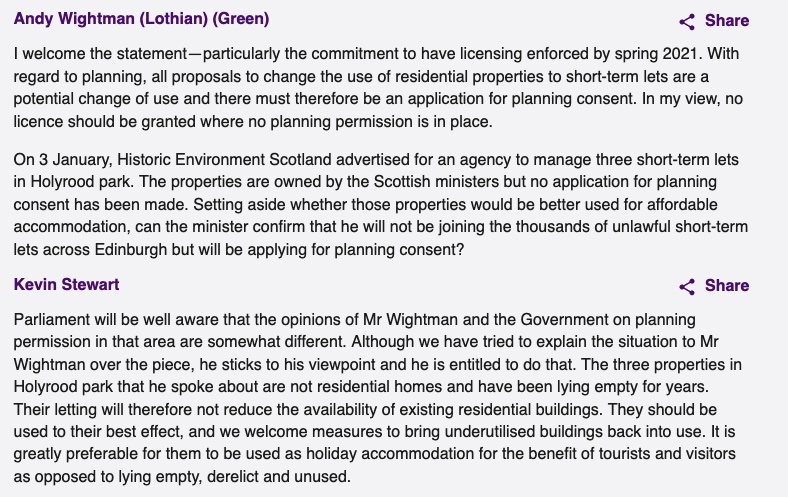 (I do not recall what the third property referred to is).
The Minister was, in effect saying that Scottish Ministers did not require planning consent for the change of use and that there was no intention to apply for consent. He did not explain why this was the position. Both properties were refurbished and advertised for holiday accommodation. One of the adverts is still live but the booking link on Rettie's website is dead. (1)
As of January 2020, Scottish Ministers via Historic Environment Scotland had never submitted an application for planning consent but, following the introduction of the short-term let licensing regime, and realising that planning consent was required, applications were submitted on 23 June 2023 for both properties. (2)
Both applications were refused on the basis that they represented a loss of residential property and that this loss that was not outweighed by the economic benefits. You can read their Handling reports and Decision Notice by following the links below in Note (2).
Both properties will, one assumes, be returned to residential accommodation and let on private residential tenancies. Maybe an MSP can ask the current Housing Minister about what is happening.
NOTES
(1) (1) See https://www.historicenvironment.scot/visit-a-place/holiday-lets/meadowbank-lodge/ or here for a pdf of the page.
(2) The planning applications and associated documents can be found at the following links.
Meadowbank Lodge
23/02733/FULSTL | Change of use from residential (Class 9) to short term let (Sui Generis) (in retrospect). | 1 Duke's Walk Edinburgh EH8 7AT REFUSED 27 September 2023
Duddingston Lodge
23/02726/FULSTL | Change of use from residential (Class 9) to short term let (Sui Generis). | 32 Old Church Lane Edinburgh EH15 3PY REFUSED 16 August 2023