Why is Donald Trump still a GlobalScot?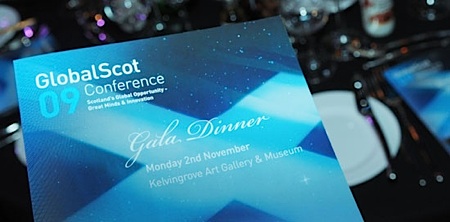 UPDATE 1381 days later 9 December 2015
The Scottish Government has withdrawn Donald Trump's role as a GlobalScot in response to remarks he made that Muslims should be prohibited from entering the UK.
—————————————————————————————————————-
Donald Trump Jr. arrives in Scotland today (28 Feb 2012) to further his father's campaign against wind energy in Scotland. He will be attending the Communities Against Turbines Scotland event at St Andrews Town Hall, 7.15pm on 1st March. His father has claimed in a letter to Alex Salmond that "foreign energy companies will destroy your country and economy", and that Mr Salmond "will single-handedly have done more damage to Scotland than virtually any event in Scottish history". He goes on to say that "I have authorised my staff to allocate a substantial amount of money to launch an international campaign to fight your plan to surround Scotland's coast with many thousands of wind turbines." One report suggests that he has allocated £10 million to the campaign.
Mr Trump has also threatened to bring a lawsuit against the Scottish Government which would, he argues, delay the proposed European Offshore Wind Deployment Centre off the Aberdeenshire coast which he has railed against previously.
Now renewable energy forms a major part of the Scottish Government's economic strategy as outlined in their Routemap for renewable Energy in Scotland. Donald Trump Sr. has stated quite clearly that he intends to do all he can to frustrate this by an international multi-million pound campaign and by legal actions designed to delay an important experimental project. Donald Trump Jr. has arrived to carry out his father's instructions and oversee the beginnings of this onslaught.
All of which is rather interesting in the context of a Scottish Government initiative to encourage support for Scotland's economic future by international entrepreneurs.
The GlobalScot network is a project of Scottish Development International (SDI) consisting of 746 "successful executives located throughout the world". GlobalScots all have "strong connections with Scotland" and "each of them has a strong desire to see Scotland succeed in the global business arena." Currently, SDI is "not looking to grow the membership significantly however we are currently looking to identify prospective members in the following sectors." (and the list includes Renewable Energy, Offshore Wind, and Marine Energy).
On 22 April 2006, First Minister Jack McConnell invited Donald Trump Sr. to become a GlobalScot. On 30 April, Donald Trump accepted the personal invitation and Mr McConnell stated that,
"Donald has shown me a real passion for Scotland. He is a globally recognised figure who can help us to promote Scotland. I am delighted that he has taken up my offer. This is a good bit of business for all concerned."
Membership of GlobalScot is "by invitation only, personal and non-transferable." Here, for the first time, is published the full list of members. What is of some limited interest is that the name of Donald Trump Sr. is not on the list. Has he resigned? However, Donald Trump Jr. is named. When was he invited? Surely he didn't take over from his dad (membership is non-transferable).
What is also of some limited interest is that in October 2007, Alex Salmond invited Rupert Murdoch to become a GlobalScot and impressed upon him that GlobalScot is a "prestigious, international network of Scots, and those with an affinity for Scotland, who are committed to advancing Scotland's economic success." The letter claims that Murdoch accepted the invitation but his name does not appear on the list.
Back to Trump though, and in Jack McConnell's letter of invitation, he wrote that,
"I should welcome your participation in the GlobalScot programme because I believe that your experience, knowledge and skills can make a tangible impact on our economic development efforts."
Which brings me to conclude with the title of this blog.
Why is Donald Trump still a GlobalScot?
Given that both Donald Trumps are funding an international campaign against Scotland's economic interests and threatening lawsuits to frustrate important projects, it is surely inconceivable that SDI will now retain Trump as a member. If they do not act, then the First Minister should, without delay, instruct SDI to withdraw Donald Trump's membership of the GlobalScot network.
UPDATE 0950 28 Feb
Thank you to Lorna Waite for analysing the list of GlobalScots and noting that women make up only around 6% of the membership.