Democracy and the Common Good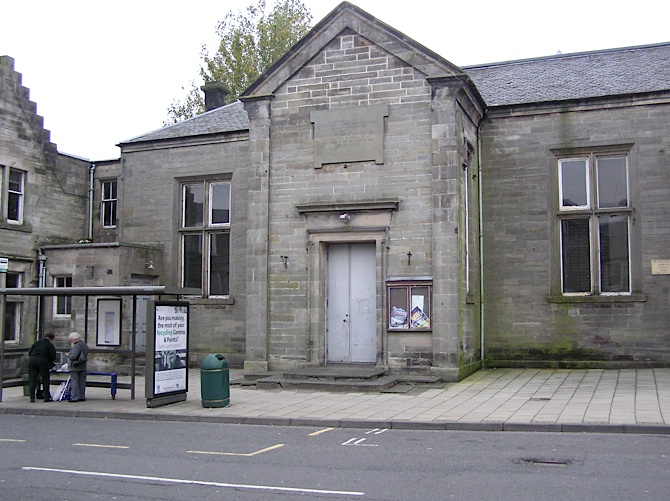 The town where I grew up. Kinross Town Hall forms part of the common good of the people of Kinross and yet lies derelict and abandoned due to the incompetence of Perth & Kinross Council.
I have received a number of emails from people in Portobello who have queried my commitment to the cause of the common good of Scotland's burghs. They complain that I have "switched sides" and that they "deeply regret my involvement in the issue". These are people with whom I have developed a mutual respect over the years. I am sorry if they feel that I have somehow betrayed the cause of Common Good. In this post I want to explain exactly what I do think. Feelings are running high on both sides of the debate over a site for a new Portobello High School and the future is uncertain for everyone. But I remain as dedicated to restoring Scotland's common lands to their rightful place in Scotland's communities as ever and continue to work with many people to this end.
In a typical case in Scotland, folk are trying to reclaim control over common good land that is now the responsibility of a Council that takes in many former burghs. So, for example, Kinross, Dumfries, Forfar, Leven etc. are are now all subsumed into much larger local authority areas. In all of the cases I have been involved in, a small number of people are fighting an at times heroic battle to seek redress for past wrongdoings. One such is the late John Wilson of Greenock interviewed here who sadly passed away in 2011. His struggle is immortalised in Wilson vs Inverclyde 2003 and I wrote a short blog following his death.
These cases all involve attempts to identify and secure the proper administration of common good land against an often hostile and obstructive local authority. History is full of legal cases where citizens have gone to court to challenge Councils that have exceeded their powers (e.g. Murray v. Magistrates of Forfar 1893) or to protect their common good from a successor local authority to the Town Council (e.g. Cockenzie & Port Seton Community Council v. East Lothian District Council 1997).
My basic position is that I believe that the people of Kinross, Maybole, Langholm and such places should be the ones who are in charge of their common good and take decisions about how it is administered. Thus when I was originally asked for advice in relation to Portobello Park I willingly gave it to those who asked. Since 2006 PPAG have asked for advice on occasions and I have done my best to provide what assistance I could.
Until April 20102 (when I signed the petition asking PPAG to drop their appeal) I never took a view on whether there should or should not be a school built on the site. I have always been of the view that this is a matter for the people of Portobello. I still hold that view. At the moment there are those opposed to building  a school in the park, those in favour, and a lot of people who have never expressed an opinion.
Common good law evolved over centuries to protect the interest of citizens against often corrupt, nepotistic and undemocratic Town Councils. Such protection is still needed today 30 years after Scotland's 196 burghs lost their local government because for 192 of these 196 burghs, decisions are not in their hands but in the hands of a much larger Council elected and accountable to people in other burghs in Fife or Angus for example. But where a community clearly wishes to do something with it's common good and the Council agrees, the law should be there to facilitate this not to prevent it. Equally the law should be there to stop the Council over-riding the rights of the citizens. The law in this case is doing neither.
It follows that IF …… IF the people of Portobello wish to build a school in the park, they should be able to do so. If they don't wish to do so, then that's fine too. There is no point, however, in common good law which prevents a community doing what it expressly wishes to do.
At the moment, we don't know what the people of Portobello think. Those opposed to the school in the park have spent a lot of time and money on a successful legal challenge. But, equally there are others more determined than ever to press ahead. There remain a number of options for doing so.
And that is why I believe that the residents of Portobello should be given the chance to express their view on the available options in a referendum.