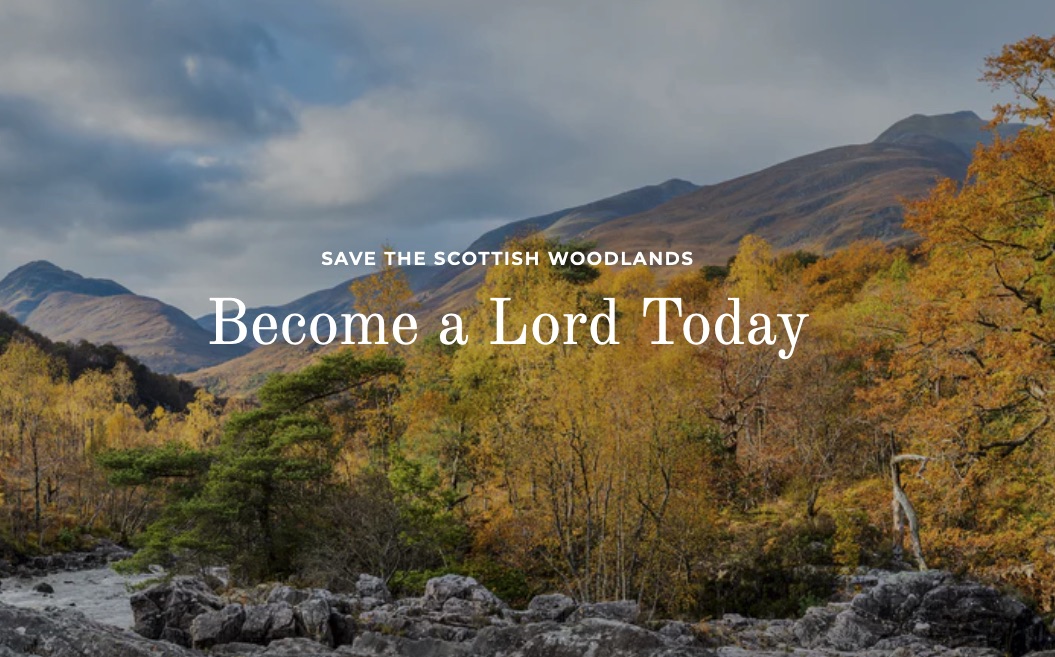 Established Titles
There has apparently been quite a fuss among so-called YouTubers (folk who run influential YouTube channels) about an outfit called Established Titles. This video by Scott Shafer has been viewed 2.5 million times in 7 days. He calls out Established Titles as a scam and criticises fellow YouTubers (who he claims are being offered $20,000 per month to promote the project) who have been sponsored by the company. I know nothing about this world of YouTube influencers but it is big, it is profitable, and it is influential.
Some YouTubers (eg Holden Hardman) have been sponsored by Established Titles and have now withdrawn.
Established Titles has responded to the fuss here.
Readers will be familiar with Highland Titles and their dubious practice of "selling" square-foot souvenir plots and claiming that this entitles you to call yourself a Lord or Lady of Glencoe. Readers will also be familiar with my own legal battle with Wildcat Haven Enterprises CIC, another outfit operating the same business model and (until recently) actively supported by Highland Titles.
Established Titles adopts the same business model. It was founded two years ago years ago by Katerina Yip, a US citizen who lives in Hong Kong. She describes the project in the "About Us" section as follows:-
Ye Olde Established Titles wast setteth up to preserve woodland in Scotland while eke making a unique gift for those looking for something different. T'was started by Katerina Yip who had fallen in loveth with the breathtaking sights of the Scottish countryside on trips madeth during her timeth studying Law at the University of Durham, and subsequently living in the medieval city of York.
The Established Titles website contains an address in the footer – "Lessendrum, Huntly, AB54 6XR, Scotland, UK". This is not a registered office address and appears to be a reference to one of the parcels of land owned by the company that runs the project. Established Titles is not an incorporated organsiation.
The Established Titles website landing page invites you to "Save the Scottish Woodlands" and "Become a Lord today". You are invited to "purchase a personal Lordship or Ladyship Title pack with dedicated land in Scotland". In a footnote it is explained that "This is a purchase for a personal dedication for a souvenir plot of land. You may choose to title yourself with the titles of Lord, Laird or Lady."
It goes on to claim that "every lordship of ladyship title pack contributes to the preservation and protection of woodland areas in Scotland." It does not explain what this preservation or protection involves or how much your purchase contributes to that objective.
The certificate claims that Established Titles agrees to sell a plot of land of one square foot in extent.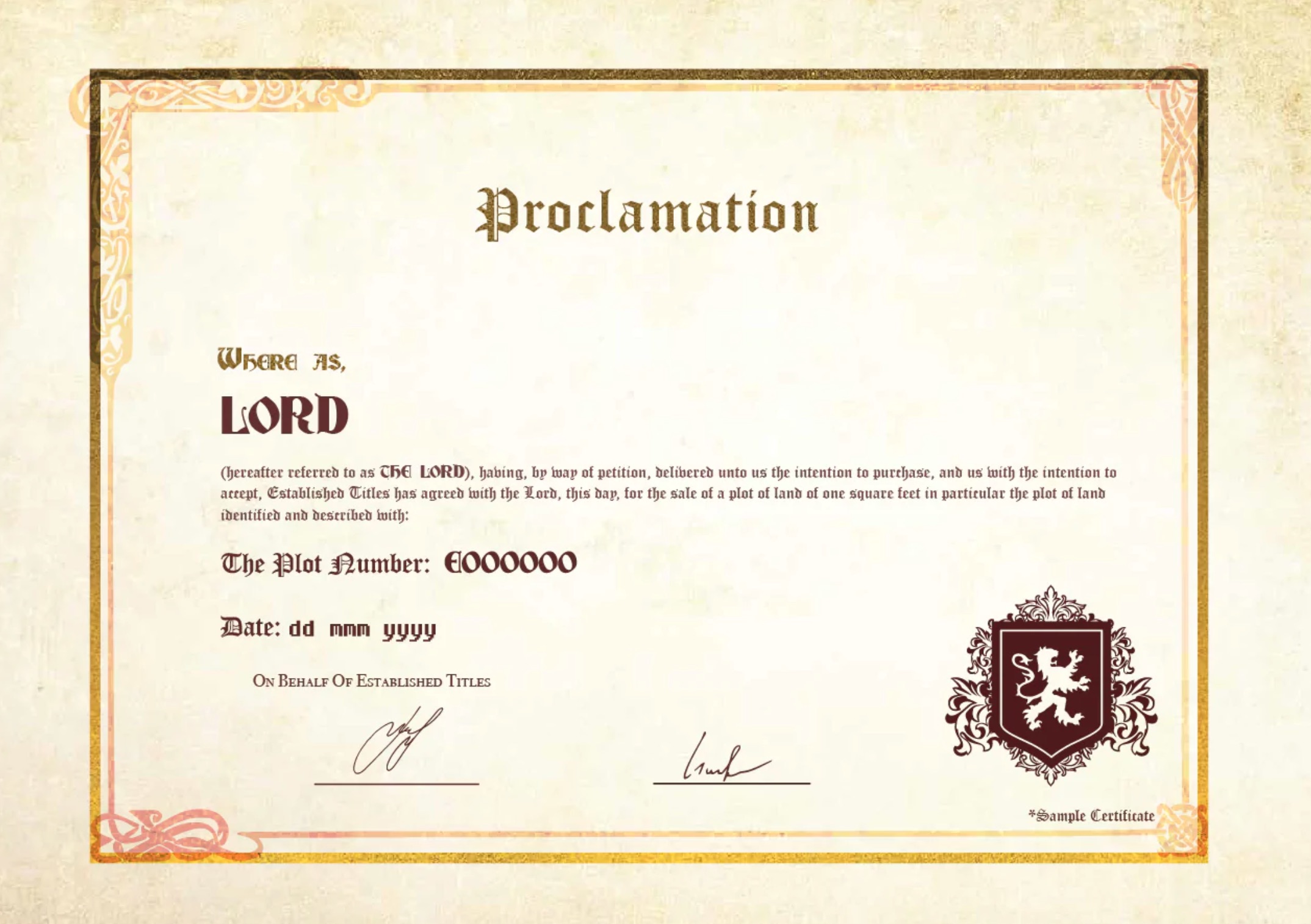 Fact
1. The acquisition of a square foot plot does not entitle anyone to become a Lord or a Lady
2. The acquisition of a square foot plot does not confer ownership of the land which remains owned by the existing owner.
The Land
In their response to criticism, Established Titles claims that it "has been able to purchase a total of 6 different slots of land, exceeding over 200 acres in total area.
Established Titles owns no land in Scotland. In so far as they claim to, it is all owned by a company called Galton Voysey Ltd. which is a company registered in Hong Kong (No. 2232931).
In a letter to content creators, Established Titles claims to have acquired "over hundreds of acres of land"(sic). They claim to own six parcels of land across Scotland from Aberdeenshire to Wigtonshire. Five of those parcels (totalling 55.7 acres) are owned by Galton Voysey Ltd. The sixth, at Eddleston in Peebleshire is claimed to be owned by Established Titles/Galton Voysey but in fact is owned by a Sara Flynn, is part of an existing tree planting project approved by Scottish Ministers, and part of which is also registered for carbon credits (Carbon Registry No. ID: 104000000026523).
A 25 acre holding at Edleston is registered in the Land Register under the name of Sara Flynn (PBL6578) and a larger part (121 acres) remains in the Register of Sasines. An Advance Notice was registered on 19 August 2022 for a disposition from Sara Flynn to Galton Voysey Ltd. but has now expired and no disposition or sale is recorded either in the Register of Sasines or the Application Register of the Land Register.
Galton Voysey Ltd. thus owns not hundreds of acres of land but 55.7 acres to be precise.
The claim on the home page of Established Titles that "Each Pack contains one square foot of dedicated land on a private estate in Eddleston" is thus open to question.
Finances
No accounts of Galton Voysey Ltd. are available for public inspection. The company claims to plant a tree with every order through a partner project, Trees for the Future. Established Titles claims it has planted over 2,065,630 trees as at 2 December 2022. With the cheapest souvenir plot costing $49.95 (£40), this means that Established Titles must have generated an income of £82,625,200.
However, in its letter to YouTubers, Established Titles claims that Galton Voysey "has made a multi-million dollar loss on Established Titles". Given that the products being sold are merely downloaded digital files, it is hard to see how this claim is accurate. The land acquired to date has cost £35,000 and, if a tree has been planted through its partner for every plot sold then Establsihed Titles, as explained above, has made revenue of over £82 million.
Questions for Established Titles
How much income have you made since the project started?
Why do you claim to own land at Eddleston when it is owned by someone else?
What is the reason for the multi-million dollar losses?
How much money have you contributed to partners in order to plant trees?
---
This blog has been supported by donors to my defamation crowdfunder who kindly donated their eligible refunds to my work on land reform.