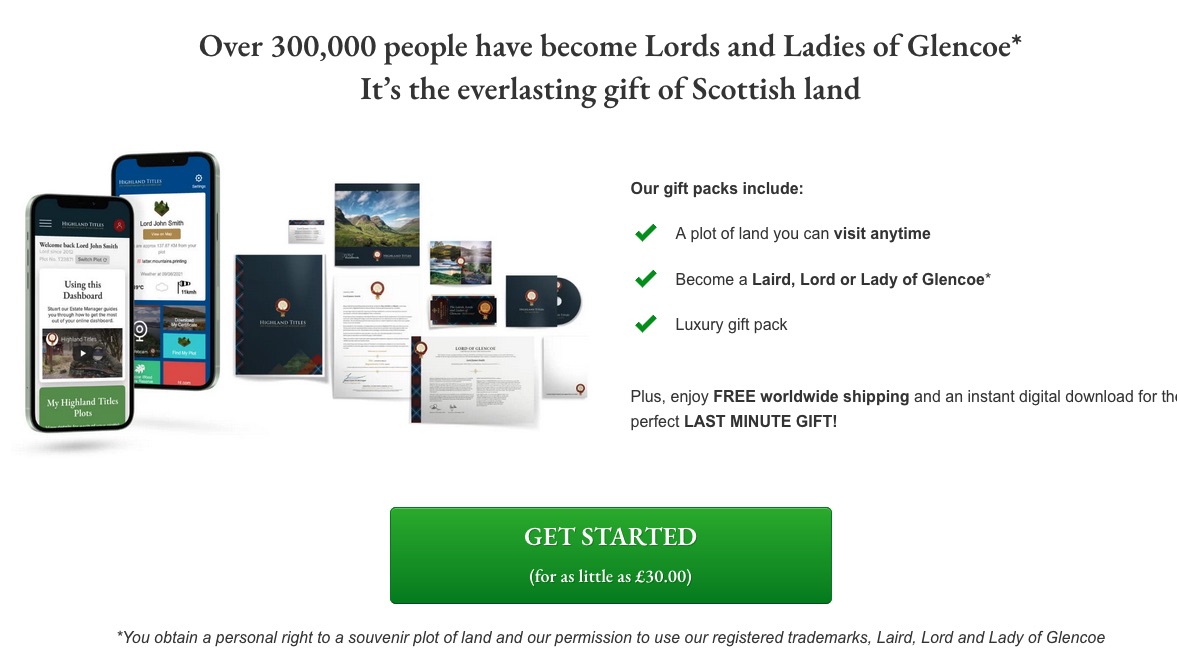 Happy Highland Titles Day (10 February 2015)
Its been a while since I have said anything further about Highland Titles for obvious legal reasons. I do have a great deal more to say of which more later.
Meantime, it is worth noting that Highland Titles Ltd. (company registered in Alderney No. 1599), a company that has sold over 300,000 souvenir plots over the years (see image above), is no longer selling any souvenir plots.
If you buy goods or services on any website there will be (or should be) a page setting out the terms and conditions of the transaction. This is the legal basis for the contract of sale being entered into.
Highland Titles Terms of Sale are to be found here. They make clear that if you do not agree to be bound by these terms then you should stop using the website immediately. So let's have a look at them.
At the outset, it is noted that the agreement is between you the customer and a company called Scottish Highlands Ltd. This is the company that is selling the souvenir plots now and not Highland Titles.
Under the Privacy Policy, it is claimed that "Scottish Highlands Ltd." trades as "Highland Titles".
Scottish Highlands Ltd. is a company registered in Guernsey (69292) and was incorporated on 3 June 2021. Its Directors are Laura Bevis, Helen McGregor and Douglas Wilson. Its beneficial owners are Laura Bevis and Helen McGregor. Helen McGregor is the spouse of Peter Bevis, the founder of Highland Titles.
Mr Wilson is the CEO of Highland Titles and was heavily involved in Wildcat Haven Enterprises CIC (WHE), the company that sued me for £750,000 (and still owns me £60,000 in expenses). It was Mr Wilson that put up the £110,000 bond of caution on behalf of WHE when in the Court of Session.
Anyway, let's move on.
Under Definitions, "goods" means "any products that Scottish Highlands Ltd. advertises or makes available for sale through the website" (so souvenir plots mainly but there are also tartan tammie hats, Highland Titles face masks and a selection of soft toys). Thus Highland Titles are no longer selling any of these products – Scottish Highlands Ltd. is.
But Highland Titles has not gone away. It appears in at least 25 clauses of the Terms to Sale. Now this "Highland Titles" may simply be referring to the name by which Scottish Highlands Ltd. trades (see above) but nowhere in the Terms of Sale is that stated (it should be). Nor is there any definition given of what is meant by the term. Highland Titles is, for example, responsible for the communications systems on the website.
Under Clause 5 (Intellectual Property), we are told that all text, graphics, logos etc. are "the property of Scottish Highlands Ltd, our affiliates or other relevant third parties and that they are protected by UK and international intellectual property law". If you wish to use them, you can ask permission from a company called Little Landowners Ltd..
Little Landowners Ltd. used to have a website (it seems still to exist but has no content) that promoted the sale of souvenir plots to children. Little Landowners was incorporated in England and Wales (Company 11477641) on 23 July 2018. The sole Director was Douglas Wilson but the person with significant control was The Little Land Company, a company registered in Guernsey (No. 64451).
Little Landowners Ltd. was struck off by compulsory strike-off under Section 1000(3) of the Companies Act 2006. Thus, if you wish to use any of the text, graphics, logos, etc. you will be asking a defunct company.
Under Clause 9.2, you also acknowledge that this struck-off company "reserves the right to monitor and any and all communications made to use or using our system ("system" being defined as the online communications infrastructure made available by Highland Titles).
So who should you ask if you want to use any of the intellectual property? Well, presumably you should ask the owner of the relevant intellectual property. If, for example, you wished to use the registered trademark "Laird of Glencoe", then up until October 2014, you would have had to ask a company called Highland Titles Ltd.. Oh, and that is not the Highland Titles registered in Guernsey but a company of the same name registered in the British Virgin Islands. If you wish to use it now, you should ask another company, Highland Titles OÜ, a company registered in Estonia.
Highland Titles OÜ also owns the intellectual property in "Conserving Scotland one square foot at a time", "Lady of Glencoe", "Highland Titles", "The Jacobite Trail" and "Celtic Titles". Celtic Titles sells souvenir plots in Ireland, an operation run by Highland Titles OÜ (although any dispute will be governed by the laws of Guernsey despite it being an Estonian company).
The owners of Highland Titles OÜ are Douglas Wilson and Helen McGregor. The company had a turnover of €2,488,706 in the year to 31 December 2020 and made a profit of €741,537.
Highland Titles OÜ owns two parcels of land at Kilnaish and Glen Nant in Argyll. You can buy souvenir plots at Kilnaish through the Highland Titles website though your contract will be with Scottish Highlands Ltd.. Highland Titles OÜ claim not to control any sites that the Highland Titles website links to (Clause 7).
Finally, under the Overseas Companies Regulations 2009, all non-UK companies having a place of business in the UK are required to register with Companies House (not to be confused with more recent Register of Overseas Entity regulations requiring registration of non-UK companies that own land or property in Scotland). Neither Highland Titles Ltd. nor Scottish Highlands Ltd. are registered (though both Scottish Highlands Ltd, and Highland Titles OÜ have complied with the requirement to register on the Register of Overseas Entities).
Quexus Ltd, a company registered in the British Virgin Islands which owns the estate from which Highland Titles operates and sends gift packs (presumably on behalf of Scottish Highlands Ltd.) is also registered in the Register of Overseas Entity. Its beneficial owner is Helen McGregor.
I offer all of the above in the spirit of consumer advice. I do not expect any of my readers will be contemplating buying a souvenir plot from Highland Titles/Scottish Highland Ltd./Highland Titles OÜ or Little Landowners Ltd. but if you do, maybe check the Terms of Sale first.
This blog has been supported by donors to my defamation crowdfunder who kindly donated their eligible refunds to my work on land reform. These refunds were provided of course from the £110,000 Bond of Caution lodged by Douglas Wilson.