10 reasons why Trump's golf course will fail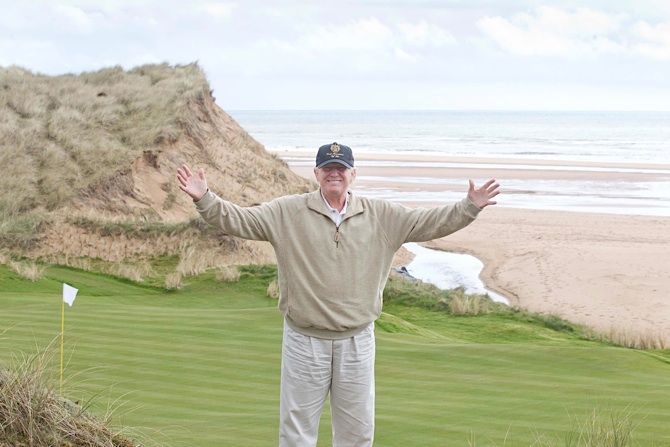 Having taken a close interest in Donald Trump's new golf course at Menie Estate, I have at times wondered whether, irrespective of the events of the past, it will be a success or not. Today, as the golf course is officially opened, I conclude that it will, in fact, be a failure. Here are the ten reasons why I reach that conclusion.
1. It's in the wrong place
I am reliably informed that Donald Trump looked at "hundreds" of locations across the whole of the UK before deciding to build his new course at Menie Estate in Aberdeenshire. Among the sites examined was the 600ha brownfield site at the former Polkemmet Colliery in West Lothian. In the end, however, Trump was smitten by the "Great Dunes of Scotland" and failed to properly evaluate the full business case for alternative locations. Polkemmet would have been ideal for a Trump development. Planning consents were already in place for 2000 houses and 2 championship golf courses. It is extremely well located for the kind of golf tourism that Trump is promoting and has excellent transport links. The site is also capable of being moulded into any kind of shape desired. Donald Trump, however, was in pursuit of a vanity project and not a viable world class golf resort. The Menie dunes are magnificent but it is a poor place for a golf course of the scale envisioned by Trump.
2. The Menie dunes will keep moving
According to an authoritative report by Dr Jim Hansom, the undisturbed sand sheet at the southern end of the Foveran Links Site of Special Scientific Interest (SSSI) was the "most extensive, dynamic and demonstrably systematic in its mode of transit of any such feature" in Great Britain. It has now been destroyed. Figures 13 and 14 in the Hansom report show the dunes' migration northward by 550m since 1949.
Despite the destruction, the dunes system at Menie form an integral part of the Aberdeen Bay longshore sediment transport system. In other words, Mr Trump's golf course is probably going to be subject to substantial periodic sandstorms which could bury whole greens or tees. Over time such disturbances will become too much to deal with and the golf course will be destroyed.
Just take a look at that bank of sand behind Mr Trump in the photograph above (oh and to his left, this green has collapsed into the sea (see paras 31-37 of this MEMAG meeting of 11 April 2011)
3. The European Offshore Wind Deployment Centre will be consented
Although no decision has yet been made by Scottish Ministers, there appears no valid grounds for refusing to consent the European Offshore Wind Deployment Centre (EOWDC) in Aberdeen Bay. If this happens, Donald Trump has already said he will walk away from development of the hotel and houses. The golf course is not viable without them.
4. The Trump brand is now mud
Much of the anticipated success of the golf course relies on the so-called "Trump brand". Divisive a figure though he is, this brand is still immensely valuable in the US. In Scotland, however, it is probably now irredeemably damaged due to Mr Trump's actions in bullying and harrassing people and in his abysmal public relations (if you want to do business in a country it helps if you are polite to people). The north-east business community are the key cheerleaders for Trump as illustrated in this video clip. But the north-east business community is full square behind the EOWDC and, once that is approved and Trump storms off, his brand is worthless.
5. The course will never host a major golf tournament
Much has been made by Trump of his ambitions for Menie to host a major golf tournament. It is very unlikely that this will happen for at least three reasons.
Firstly, according to some golf experts I have spoken to, the course is too tricky and demanding to play. Whilst top golfers obviously need a severe test of skill, the margin of error needs to be contained (in other words, no true competition should leave too much down to chance). Trump has built a golf course with relatively confined fairways that would not look out of place in the USA – except he's created it on the wild north east coast of Scotland.
Secondly, it is doubtful whether either the course and the local area could accommodate the sheer numbers of spectators, facilities and accommodation requirements of a major golf event. My understanding is that no evaluation of this has been done and so I could be proved wrong but sources tell me that it would prove quite challenging
Thirdly (and the most impotant factor) is that it is almost certain that at some point in the near future, major championship events will need to be acccredited by the Golf Environment Organisation (GEO) as a condition of hosting. Jonathan Smith, the CEO of GEO has stated that,
"The golf development at Menie Estate has been widely, and in our view rightly, criticised for causing avoidable environmental damage and social disruption. While its playing quality may well be extremely high, this is at the cost of considerable negative impact on what was one of the UK's most valuable mobile sand dune systems."
It is interesting to note the contrast between Menie and the Machrihanish Dunes course in Kintyre which was built entirely within an SSSI by a wealthy US businessman and was the first 18 hole course in the UK to achieve GEO certification. It shows what could have been done at Menie.
It is certain that Menie will not receive GEO certification. Given that all the premier golf courses in the UK are seeking such accreditation, it is hard to see how this will not become a requirement of any course that wishes to host a major.
6. The course will not be world-class
Trump places great faith that his golf course will be the best in the world. But during the masterplanning process in 2009, the architect, Gareth Hoskins concluded that it could not even be world class without the extra land that the local residents own and refuse to sell.
"Obviously you can make it work within the available area … you know you can work around about it …. you know you can accommodate the residential, you can accommodate the resort. The championship course works. You can manipulate things to get round about them but if I'm asked, does this make it a world class development, the answer is quite emphatically no." (1)
7. Trump will lose interest – it's a vanity project
It is clear that this golf course – indeed the whole project is a vanity project, an ego trip for Mr Trump. The 7th reason is therefore that he will simpy lose interest.
8. The project is financially unsustainable
This assertion is merely that – an assertion. It is hard to see how this project will ever generate a return on the capital that has been invested and that is scheduled to be invested. Without a return, it is a drain on the pocket of Mr Trump. He may be happy with that but my feeling is that he will lose interest or walk away because of EOWDC and sell up.
9. The loss of key stakeholders
For any project of this nature to succeed, the key stakeholders need to be on board. This was the case at the beginning when local and national government and business interests gave the development their enthusiastic backing but Trump's friends are a diminishing band. He has lost the Scottish Government. He will probably lose the local business community and Aberdeenshire Council will most likely get fed up.
10. It is too far away from Trump Tower, New York
For this project to succeed on Trump's terms, he needs to maintain a close connection with it. Business ventures located far from the seat of power are the most vulnerable to any number of external shocks. I don't think Trump International Golf Links Scotland will survive more than 5 years.
(1) Donald Trump's Golf War by Midas Productions. First broadcast on BBC 2 Scotland 15 November 2010 at 39:16